Whether you've recently slimmed down, found a coveted pair on sale in the wrong size,
or want to turn your beloved bell bottoms into trendy skinnys; we've got you covered.
Need a smaller size? We'll take in the waist, hips, and butt for a smooth resize and no extra sagging fabric*. We can also take in the legs to change the style. If you are dropping off your jeans for this service to our NYC location, please do so between 11am-6pm Monday to Friday.
Re-size
Option 1: The most ideal thing to do is to send us a pair of jeans that fit you very well, so we can match the ill fitting jeans to them.
Option 2: Follow our step-by-step guide below to show us exactly how you'd like your jeans resized. You may need a friend to help. Learn more.


Elastic Waist Expansion
Can't breath in your jeans? Need a little extra room in the waist? Waistbands can be restrictive. We can replace part of your waistband with elastic to relieve some of the shackle and to allow for more flexibility as you are active in your jeans.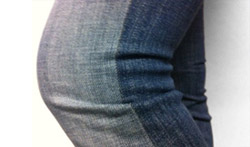 Caveats
If there is different stages of wear from the front of the legs to the back, taking the legs in may result in an uneven color pattern over the seams.
If you request a very large adjustment, the back pockets of your jeans will become off-center.
Some jeans have individually worn out side seams, those will be lost when re-sizing the jeans.
If there are metal rivets along any part of the seam you want taken in, then we will most likely have to remove them.